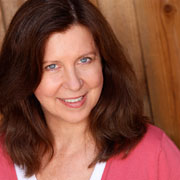 As far back as I can remember, if I wasn't reading, I was probably singing and dancing around the living room – or "jumping around" as my mom would say. So it's no surprise that today I have shelves and stacks of books in every room, sing with a choir, and still have the piano my grandparents bought for me when I was in third grade.
And I've been smitten with theatre ever since I was a kid and saw my first play. As an adult, I've been involved in theatre in the San Francisco Bay Area and Los Angeles, performing in classical plays as well as new works, in small and large venues, indoors and out.
Once I plunged into narrating audiobooks, I was hooked. One of the great joys from my "young Mom" days was reading to my son. I'm also a bit of a geek when it comes to my home studio, tweaking, experimenting, and upgrading. You can follow the studio's evolution on the blog.