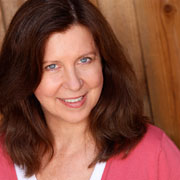 As far back as I can remember, if I wasn't reading, I was probably singing and dancing around the living room – or "jumping around" as my mom would say. So it's no surprise that today I have shelves and stacks of books in every room, sing with a choir, and still have the piano my grandparents bought for me when I was in third grade.
Before embarking on my journey as a narrator, I performed in theaters in Los Angeles and around the San Francisco Bay Area, as well as in some indie films and commercials. I have an M.F.A. in acting from CalArts, and a B.A. in theatre arts from UC Santa Cruz.
I'm also a bit of a geek when it comes to my home studio: tweaking, learning, experimenting, and upgrading. You can follow the studio's evolution on the blog.