Hi! Thanks for stopping by. Are you an author looking to turn your printed words into audio? An audiobook fan searching for your next listen? Maybe I can help. I'm an audiobook narrator based in Los Angeles, working out of my home studio. You'll find some samples below and on my audiobooks page. Recent releases and new info are listed here – and I periodically post on the blog, too.

What's New:

Excited to be working on Coalescence: Camden Investigations, Book One, a sci-fi by Gary Starta. I'll post a clip as soon as one's available.






New Release:
Everything Bundt the Truth by Karen C. Whalen has tied for 1st Place in the IDA Contest, Suspense Novel category, sponsored by OKRWA – Oklahoma Romance Writers of America! It's available now on Audible.

Recent widow, Jane Marsh, is determined to recapture a rich, full life. She rides a bicycle on her lunch hour in a suit and heels; she smokes cigars and eats at hipster restaurants; and she's re-entered the dating scene, even if her dates prove to be peculiar. Her most fervent desire, though, is to join an exclusive dinner club. She auditions, but is barred when her housekeeper is found murdered, and she and her guests are suspects.

Here's a short clip:





Other Recent News:
Desert Pawn by Joel Feiss is now available on Audible.

Mary Ann Berman, an American newlywed honeymooning in Israel, is kidnapped. The investigators assigned to her case must draw on their relationships in Israel, the U.S., and among the Hamas-led Palestinians to locate and rescue her.


Here's a short clip from the Prologue:


Aubrey Tanner is married to her work. Her bakery keeps her busy, feeds her the town gossip and pays the bills – all that she needs…until she finds herself under attack, with no way to save herself.

Derailed by Renee Lee Fisher is now available on Audible.



Here's a short clip from Chapter 1, when Aubrey and Tate first meet: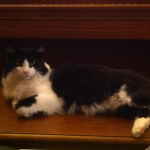 Sylvester likes to hang out on the piano bench where he can keep an eye on me while I'm working.


"Books, cats, life is good." Edward Gorey