Hi! Thanks for stopping by. Are you an author looking to turn your printed words into audio? Or an audiobook fan searching for your next listen? Either way, welcome! I'm an audiobook narrator based in Los Angeles, working out of my home studio. Recent releases and new info are listed here – and I periodically post on the blog, too.

What I'm Working on Now:
Recording is complete and the book is in post-production. Expect a summer release of Desert Pawn by Joel Feiss.

Mary Ann Berman, an American newlywed honeymooning in Israel, is kidnapped. The investigators assigned to her case must draw on their relationships in Israel, the U.S., and among the Hamas-led Palestinians to locate and rescue her.


Here's a short clip from the Prologue:





Recent News:
Aubrey Tanner is married to her work. Her bakery keeps her busy, feeds her the town gossip and pays the bills – all that she needs…until she finds herself under attack, with no way to save herself.

Derailed by Renee Lee Fisher is now available on Audible.



Here's a short clip from Chapter 1, when Aubrey and Tate first meet:

Buckle up your Birkenstocks and travel back to 1975. A coming of age story set in Arcata, a remote college town on the northern California coast. Hardworking, bookish Kit, on track to graduate in the spring, falls for Jonathan, her professor, a one-time best-selling author who's struggling with his personal demons. Heliotrope, by J.C. Miller, is available now on Audible.

Transported me back to the 70's… I saw, heard, smelled and enjoyed everything about it. — an Audible listener



Flash, A Dogleg Island Mystery, vol. 1, by Donna Ball, is available now on Audible
A single night of blood and terror forever changes the lives of Aggie Malone and Ryan Grady on Dogleg Island, a quaint Florida village where almost nothing ever happens. An eye witnesses to the brutal murder, a perceptive border collie named Flash knows who the killer is.

It only took a few minutes of listening and I knew this was a special story. — an Audible listener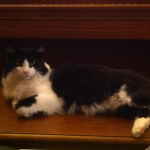 "Books, cats, life is good." Edward Gorey